Patello-femoral Knee Pain Cardiff
Massage & Acupressure for Knee Pain

Tailor made massage treatments for Patello-femoral knee pain to accommodate for specific needs.
This special range of sports massage biomechanical therapy, in combination with reflexology and acupressure trigger point therapy is suitable for people of all ages and physical conditions with acute or chronic pain in the knee area and an inflammation of the patella knee cap. Your treatment will start from an original assessment of the biomechanics of your foot and any possible excess pronation or supination of your foot, which may lead to an inflammation of your Patello-femoral knee pain.

There is clinical evidence to suggest Moxibustion mug wort treatment and Chinese Tui Na massage are very effective in treating knee osteoarthritis and easing knee pain. Aromatherapy essential oils may be blended to suit your particular needs, to tailor make a knee pain relief and an anti inflammatory oil blend. Trigger point therapy treatments and myofascial soft tissue manipulations suit acute knee pain, a lack of biomechanical mobility or reduced range of motion.
knee pain may also bring about cramp in the lower body, calf tension and sciatic pain.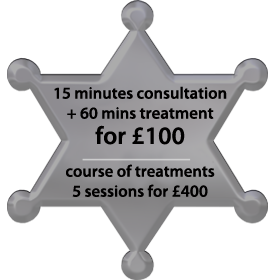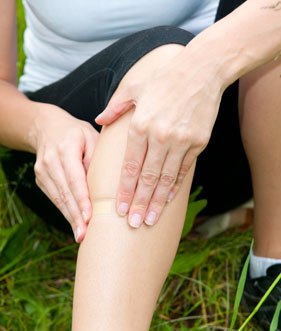 CNHC Registered and fully recognised by most insurance companies. The CNHC is a government sponsored registration body for complementary healthcare practitioners.

The Department of Health advises all GPs to direct patients seeking Masaage Therapy or Reflexology
to seek out only CNHC (the Complementary & Natural Healthcare Council) registered therapists.
Sports massage, Remedial massage, Swedish massage, Shiatsu massage, Hot Stones massage, Reflexology and Aromatherapy massage are all accepted by Health Shield
Sports massage, aromatherapy massage and Acupressure are accepted by Westfield Health
Please see their TCs.
Short versions of knee pain massage treatment may be performed without oil, over your clothing.
When performed in this way, knee pain massage routine may be quite deep and invigorating, when needed.
For longer sessions, this knee pain relief treatment uses a highly specialised blend of Aromatherapy essential oils that will be tailor made to suit your personal needs (anti inflammatory and/or knee pain relief, as required).
Patello-femoral knee pain treatment also lends itself really well to the inclusion of Hot and Cold Stones therapy, as these basalt, marble and granite stones are highly effective in relaxing sore muscles, especially with acute sports injuries and muscle soreness or knee tendon strain.
Knee pain treatment is recommended at any time of the year, as this actually promotes a sense of refreshing harmony. 
Knee Pain therapy treatment client testimonials:
"World Class - Olympic standard. I've visited City Marshall several times. Having ran in two Olympic Games and having a silver medal in one I'd say I've got some very credible knowledge and experience in world class massage therapy. I've had some of the best therapists in the world treat me in the past and I must say that Philip at City Marshall is one of the best therapists I've ever had. You get what you pay for and that's Olympic standard.... The best! I look forward to visiting again soon!"
Jamie Baulch, Welsh Olympic silver medalist 9 July 2015 - TripAdvisor
"Although I have been very active up until a few years ago, I have always had poor knees and ankle pain. Probably due to my jogging and gym wark.
At 68 I have been diagnosed with rheumatoid arthritis and put on a waiting list for replacement knees. After seeing Philip Marshal for three sessions, I have changed my work-out routine as well as my diet and have never felt better since my 40s!
In fact, winter used to always be a real 'downer' for me, but over the last two months my energy levels have been fantastic. Despite persistent offers of an early pension, I have decided to carry on my regular work and have not taken any pain killers or other medication for weeks. I feel very fortunate to have such an accomplished practitioner so near to me, and have already recommended four of my friends to Marshal, with great results. Thanking you kindly!"
"I have had chronic pains in my knees, hips and shoulder (and tightness pretty much everywhere) for a year and a half now. This is as a result of long term postural issues and being hyper mobile. I'm 20/21 and a student at Cardiff University. The sessions with Phillip, along with stretching every day and partaking in activities such as pilates/yoga and the gym, have resulted in huge improvements. Phillip's massages and advice have been instrumental in my recovery and I have made substantial changes as a result in my daily life. I now have a very healthy lifestyle, exercising every day and eating a very healthy diet. I also had very low energy and on Phillip's advise I had a blood test for vitamin D. I was very low (range for a normal person is 50-100 and I was at 46). I now take a vitamin D supplement every day! If you want to positively improve your life I highly recommend Phillip! There is only so much you can do by yourself and massages allow for increased mobility, flexibility and improved posture."

"For ten years I was not able to reach my ankles, bend my knees without pain or clip my toe nails. I thought I never would. The NHS said its age! After 3 sport massage sessions I am pain-free, very loose and I can clip my toe nails with ease. I feel amazing and I know that in 2 or 3 more sessions I will feel even better. Thank you so much."
Aled Jenkins Pontypridd 23 January 2014
"I have great pleasure in recommending Philip at City Marshall. He made me most welcome and listened to me whilst I explained my problem. I had been in real pain with a sciatic nerve problem in my right leg and after 3 treatments I am feeling the benefit his wonderful care My real aim is to do a lot of walking in the USA in 3 weeks time and I now believe that this will be possible. Thank you Philip"
Sandra Siddall Cardiff 22 August 2013 - on FreeIndex
"I had the best time. Felt really relax and calm. Philip the owner was so kind to me and help me deal with my bad knee. I felt so much better and also came back the next week for another massage. U should go check it out!"
Koko Manchester 11 June 2013 - on TripAdvisor
"Shiatsu and Reflexology. It is obvious that Marshall has taken a lot of time and expense in mastering his many massage skills. This is not a pamper massage... Go there and be prepared to learn and be open minded. The Shiatsu is certainly highly therapeutic and if you are relaxed enough to have a massage without oil - this is surely what you should look into. Marshall's Reflexology technique is very clinical - not quite the foot massage that one expects - but extremely beneficial. I am hooked and have recommended it to all my mates at work."
Chloe Jones Cardiff on 11 August 2012
"I recently had Shiatsu massage and Thai Foot massage at City Marshall. The treatment was very relaxing. Philip Marshall certainly knows his stuff! I paid for a hour and a half treatment, and unlike some therapists who shave minutes off, Philip gave me a full hour and a half treatment, offering advice on related topics. The treatment room is very comfortable and Philip is extremely professional. My aches and pains have eased and I have booked another treatment. I would recommmend Philip to anyone. I have seen many therapists over the years and Philip is certainly one of the best."
Rebekah Humphries Risca on 8 May 2012
"My wife and I have received several Shiatsu treatments as well as foot reflexology from Philip. His service is excellent, his expertise and genuine care is second to none. Really appreciate his after care advice."
Ronald S Cardiff on 10 December 2011 - Touchcardiff.com
"My customised aromatherapy massage, with thai foot massage left me feeling relaxed, but really refreshed and energised. Phillip is very professional and was really helpful, offering plenty of advice and knowledge. i will definitely be returning for further treatments, along with friends and family."
Samantha Mock Cardiff on 6 October 2011 -
FaceBook
Some techniques that may be used in Patello-femoral Knee Pain Sports Massage are:
Soft tissue release & gentle kneading performed oil-free (dry)
Energy balancing by following your Sen Meridian lines
Myofascial tissue release, especially around the femur and tibia tendons
Reflexology and Shiatsu acupressure trigger point therapy
Knee pain patello-femoral massage benefits may include:
Mental and physical relaxation
A true sense of restored well-being & balance
A positive boost of energy and release of stress / tension
Maximising the supply of nutrients by increased circulation
Regulates blood pressure and may help in reducing inflammation levels
Pain relief and better range of motion and mobility
Who can benefit from Patello-Femoral and Knee Pain massage?
Any body of any age regardless of physical condition or fitness
Possible biomechanical failure issues - Pronation or Supination of the foot
Recovery from injury and from a training session
Rheumatism, Arthritis & digestive disorders
Repetitive Strain Injury & Foot Carpal Tunnel
Arch Pain & Tendinitis
Muscular aches and pains: sciatica, knee & heel pain etc.
Stress, tension, anxiety, headaches, migraine and insomnia
Muscular spasms including calf or lower body cramps

Occupational & postural aches
Knee pain patello-femoral therapy is performed with oil & you may wish to UPGRADE* by adding:
Hot & cold Stones Therapy – a wonderfully pampering touch with very significant balancing effects 
Essential oils – a personalised Aromatherapy blend to suit your needs
Moxibustion & Chinese Tui Na – 20 minutes as a starter fine tuning

Aromatherapy products – tailor made soaps, shampoos, creams, gels, facial sprays, after shaves and deodorants – carry the feeling home with you in a jar!
Prices are for reference only, as the Achilles Tendonitis & Heel Pain treatment will be tailor made:
VIP knee pain massage (90 minutes)          £ 130
Premium knee pain massage (60 minutes)  £ 88
Shorter knee pain massage (45 minutes)    £ 78

each additional knee pain UPGRADE*        £ 10  



KINDLY NOTE – BEST PREPARATION FOR A KNEE PAIN TREATMENT:
CLOTHING: you may remain wearing your own underwear or receive a disposable one
MEALS: avoid eating a heavy meal within 2 hours of the planned Patello-femoral Knee Pain treatment
DIET: you are respectfully advised to avoid consumption of alcohol, caffeine and nicotine on the day of your knee pain treatment to allow better toxic by-product elimination
AFTER CARE: as a Patello-femoral Knee Pain sports massage is generally balancing and harmonising, you may return to work or drive home as usual

Kindly note, for those receiving the VIP Hot Stones Knee Pain sports massage treatments, you may wish to use our kitchen downstairs, and help yourself to a soothing herbal tea, to allow further time to relax prior to returning to work or driving home