Cardiff Sinusitis Treatments
Aromatherapy, Acupressure,
Hopi Candling & Reflexology

We offer tailor made therapy treatments for sinusitis and rhinosinusitis, catering for your particular needs. Our special range of sinusitis treatments is suitable for people of all ages and physical conditions.

Aromatherapy essential oils may be blended to ease the effects of your particular sinusitis. Be it a medicated acute sinusitis with antibiotics or non medicated chronic sinusitis. Many sinusitis conditions are actually viral infections, and will benefit more from powerful anti-viral or anti-bacterial natural essential oils. These Aromatherapy blends also offer analgesic (pain relief) and anti inflammatory benefits.

Often, antibiotics may cause more harm than good. Clinical evidence shows Shiatsu Acupressure eases stress, pain and respiratory conditions in people with acute sinusitis (up to 4 weeks) and chronic rhinosinusitis. Most sinusitis treatment sessions will start with a Hopi Ear Candling treatment (20 to 30 minutes) and will end with a Shiatsu Acupressure facial session. They will often also include 15 to 20 minutes of foot Reflexology.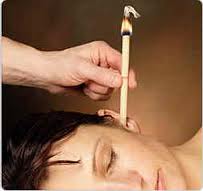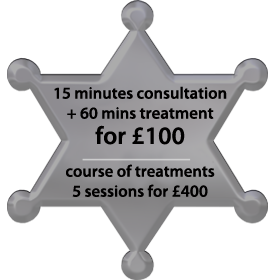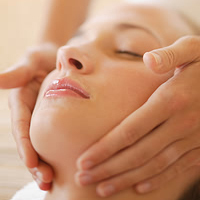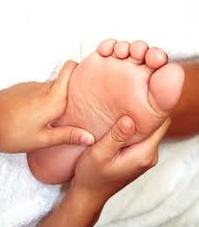 CNHC Registered and fully recognised by most insurance companies. The CNHC is a government sponsored registration body for complementary healthcare practitioners.

The Department of Health advises all GPs to direct patients seeking Aromatherapy, Masaage Therapy or Reflexology to use only CNHC (the Complementary & Natural Healthcare Council) registered therapists.
Shorter versions of the sinusitis treatment may be performed without oil, over your clothing.
When performed in this way, the sinusitis Shiatsu routine may be quite deep and invigurating, if needed.
For longer sessions, this sinusitis treatment uses a highly specialised blend of Aromatherapy essential oils that will be tailor made to suit your personal sinusitis needs, especially anti-inflammatory, anti-viral and analgesic essential oils (as required).
Sinusitis Shiatsu massage and reflexology also lends itself really well to the inclusion of Hopi Ear Candling therapy, as these cotton hollow tubular cones are highly effective in relaxing stressed facial muscles.
Sinusitis treatment is recommended at any time of the year, as the sinusitis and stress therapy routine actually promotes a sense of refreshing harmony and inner calm. 
Sinusitis treatment client testimonials:
I have always been interested in Reiki, so when I decided to give it a go, I researched the best practitioners and came across City Marshall. I was very impressed with the service and used it regular twice a week. I couldn't believe the transformation. Amazing Service
Nicola Sissons, Cardiff 3 April 2014 - on FreeIndex
A very gentle atmosphere to experience. A very calming and stress free environment.
Philip especially is a very polite and informative individual who was most helpful. I would recommend City Marshall to anyone who is seeking a relaxing experience.
Daniel M Newport 22 October 2013 - on TripAdvisor
After suffering from a chesty cough and blocked sinuses, Philip suggested Hopi ear candles which were very effective and surprisingly relaxing! What a lovely treatment, will definitely be going back!!
Francesca Blackham Cardiff 20 November 2012
I went in feeling weary and ragged - Philip's reflexology treatment revitalised me. I highly recommend Philip as a massage therapist. He was able to identify and address a number of problem areas. My sinuses dryed up for the first time in two weeks by the time he was finished working on one foot! Philip is very knowledgeable and has the ability to tailor treatments to the receiver. I plan on being a regular client.
Kelly Hayward Cardiff 2 August 2011
I had been suffering from a blocked ear drum after an ear infection and felt dizzy when walking. I explained my symptoms to Philip at City Marshall and he recommended a Hopi Ear Candling treatment. I was intrigued, but slightly apprehensive about this new Hopi treatment. Philip, however, was reassurring and gentle and I found the whole treatment extremely relaxing and beneficial. My ears have now returned to normal and I am looking forward to having another Hopi treatment with Philip, maybe combining aromatherapy essentia oils.
Wendy Cardiff 6 May 2011
My daughter booked a massage with Philip for my birthday and he was brilliant! It was very soothing and the oils that he mixed up just for me smelled beautiful. The staff were lovely and the atmosphere very relaxing, despite being in the middle of Cardiff! Philip was very caring and gentle, yet really worked on some of my trouble spots and I felt the benefit of that for a good week after. I'd book to go again - and I'll return the favour to my daughter and book her in for her Christmas present!
Mair Liddel Cardiff reviewed City Marshall on 12 December 2011
Some techniques that may be used in Sinusitis and Rhinosinusitis treatment are:
Soft tissue release & gentle kneading performed oil-free (dry)
Energy balancing by following your Sen Meridian lines
Myofascial tissue release, especially around the neck and the shoulders

Lymphatic drainage massage and Hand 'Walking' technique
Sinusitis and Rhinosinusitis treatment benefits may include:
Mental and physical relaxation together with pain relief
A true sense of restored well-being & balance
A positive boost of energy and release of anxious tension / stress
Maximising the supply of nutrients by increased circulation
Regulates blood pressure and may help in reducing cholesterol levels
Who can benefit from Sinusitis and Rhinosinusitis treatments?
Any body of any age regardless of physical condition or fitness
Stress, tension, anxiety, headaches, migraine and insomnia
Muscular spasms including stomach or lower body cramps
Muscular aches and pains: sciatica, knee & back pain etc.

Occupational & postural aches
Sinusitis treatment is performed oil free & you may wish to UPGRADE* by adding:
Hot & cold Stones Therapy – a wonderfully pampering touch with very significant balancing effects 
Essential oils – an Aromatherapy blend to suit your stress and anxiety needs
Hopi Ear Candling – 30 minutes as a starter fine tuning
Reiki chakra Balancing – 15 to 30 minutes achieving an even deeper sense of harmony and stress relief

Aromatherapy products – tailor made soaps, shampoos, creams, gels, facial sprays, after shaves and deodorants – carry the feeling home with you in a jar!
Prices are for reference only, as the Sinusitis and Rhinosinusitis therapy will be tailor made:
VIP Sinusitis and Rhinosinusitis aromatherapy (90 mins) £150
Premium Sinusitis treatment Hopi Candles (60 minutes)      £ 98
Shorter Sinusitis and Rhinosinusitis therapy (45 mins)     £ 85

each additional Sinusitis and Rhinosinusitis UPGRADE*    £ 15  
KINDLY NOTE – BEST PREPARATION FOR A SINUSITIS TREATMENT:
CLOTHING: you may remain wearing your own underwear or receive a disposable one
MEALS: avoid eating a heavy meal within 2 hours of the planned sinusitis treatment
DIET: you are respectfully advised to avoid consumption of alcohol, caffeine and nicotine on the day of your sinusitis and rhinosinusitis massage treatment to allow better toxic by-product elimination
AFTER CARE: as sinusitis massage and stress reflexology are generally balancing and harmonising, you may return to work or drive home as usual

Kindly note, for those receiving the VIP Aromatherapy sinusitis treatments, you may wish to use our kitchen downstairs, and help yourself to a soothing herbal tea, to allow further time to relax prior to returning to work or driving home