Cardiff Migraine & Headache Treatments
Shiatsu Massage and Reflexology

There is a vast difference between headache and migraine. Hence, our migraine massage treatment and our headache massage approach are very different. All our treatments are specially tailor made following a thorough consultation to establish if you suffer from a 'classic' migraine or a 'common' chronic headache.
Our massage treatments are suitable for migraine and headaches in people of all ages.

Aromatherapy essential oils will be blended to ease the effects and general pain relief associated with your particular type of migraine pain. Chronic headache pain may also be addressed with various trigger point therapy treatments and myofascial soft tissue manipulations may be suitable to best release the tense discomfort around the neck and shoulders. Constant chronic headache pain may also be treated with hot stones therapy. This may drastically improve your stiffness, reduced range of motion and neck tension.

The approach to the 'classic' migraine is very different, as this is considered to be an inflammation, and should never be treated with heat. With migraine, ice cold stones and cooling essential oils will be offered – eg. peppermint, sweet marjoram, yellow ginger, elemi and basil.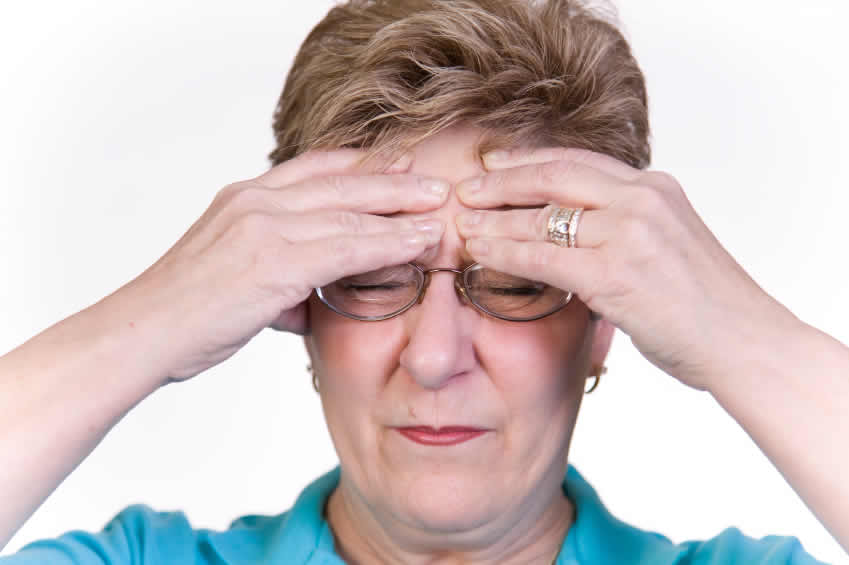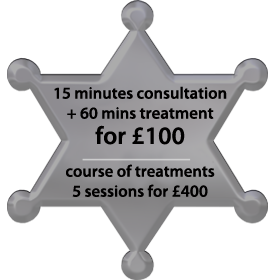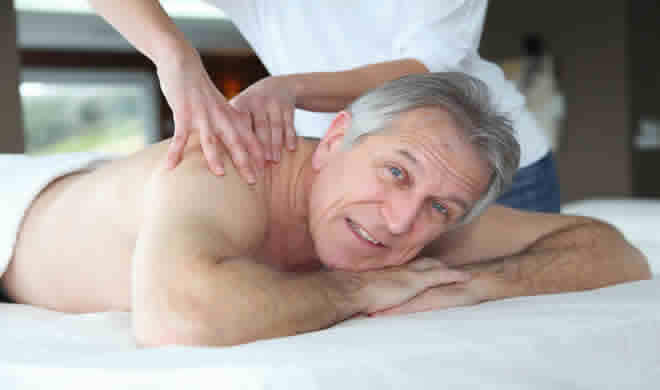 .
CNHC Registered and fully recognised by most insurance companies. The CNHC is a government sponsored registration body for complementary healthcare practitioners.

The Department of Health advises all GPs to direct patients seeking Masaage Therapy to seek out only CNHC (the Complementary & Natural Healthcare Council) registered therapists.
Guidelines published by the National Institute for Health and Clinical Excellence (NICE) in 2009 recommend that patients with persistent, non-specific neck pain, migraine and cervicogenic headache have access to a choice of different treatments, including massage. The NICE guidelines state that "The effect of massage in patients with chronic neck pain, migraine and cervicogenic headache lasted at least a year after the end of treatment". It went on in s1.4.1 to advise GPs to "consider offering a course of manual therapy, including massage, comprising up to a maximum of nine sessions over a period of up to 12 weeks". Clinical trails suggest that 1 month of Shiatsu acupressure treatment is more effective in reducing chronic headache than 1 month of muscle relaxant treatment, and that the effect remains 6 months after treatment.
Shorter versions of the migraine pain massage may be performed without oil, over your (light cotton) clothing. This will mainly involve Shiatsu and sports massage or trigger pointing as well as neck and shoulder stretches and massage. When performed in this way, this migraine pain massage routine may be quite deep and invigorating, when needed.
For longer sessions of the chronic headache pain massage treatment, special hot stones therapy massage uses a highly specialised blend of Aromatherapy essential oils that will be tailor made to suit your personal headache needs. The use of the hot volcanic basalt stones deeply relaxes your muscle tissue and allows the painless and smooth release of your neck and shoulder muscle tension with minimal side effects. For long term use, aromatherapy products with specially selected aromatherapy essential oils, may best suit both migraine pain and chronic headache massage clients.
Migraine pain and headache massage is recommended at any time of the year, as needed.

Migraine pain massage client testimonials:
The booking and arrangement for the session were easy to make. I was welcomed and made aware of covid requirements. This made me feel safe to proceed. The advice given has proved extremely helpful. The massage was thorough and provided relief immediately and I feel so much better physically, less tired and more confident that my issues are resolvable. I am returning for a further session. I cannot speak highly enough of the support I received, the skilful and considerate manipulation has changed not just my physical state but has left me less anxious about the refurn of migraine clusters. This has proved invaluable to me.
Chris H, Cardiff 23 November 2021 on Google
I went for my first session with Philip last week, not really knowing what to expect and it was great. He took the time and gave me so much information on nutrition and tips for my headaches. I will definitely be returning.
Anwen Bentley Millinary, Pembrokshire
15 October 2021 review on Google

I can't describe the difference a few sessions at City Marshall made to me. I try everything, expect nothing to work, so am rarely disappointed. In this case the services I received coupled with advice gently bestowed on me totally changed my pain and refocused my head. Forever in your debt.
Flakey As, Cardiff 6 Oct 2019 - review on Google

Best for rehab and pain relief. Philip provides helpful and professional advice and provides holistic rehab. I have been seeing him following a car crash where I sustained a very bad shoulder injury. My chronic pain is now dramatically reduced and as part of the rehab process he has reduced chronic migraine pain and provided me with diet advice. Would strongly recommend :-)
Rhian Morrison, Cardiff 15 Jan 2016 - review on Trip Advisor
"Professional, warm, knowledgable and really. Philip certainly knows his stuff and helped me with constant problems with my digestion and low immune system. Very generous with his time, advice, offers and flexible in appointments. I've moved away now and already missing the sessions.
Definitely recommend a visit. Not cheap but worth the money."
Mel Hillyard London 29 December 2013- on FreeIndex
I had bad whiplash from a sports injury, with much reduced neck movement and severe headaches. As I was working near Cardiff, I opted to see Marshall. We only had 3 sessions together and I saw a rapid improvement from the initial consultation. Although I live in London, I have recommended him to all my friends and colleagues and intend to visit him at least monthly. Excellent service, a genuinely caring professional with bags of experience. You must visit him.

Caroline N London 16 November 2013-

Yell.com
"Philip was very accommodating, friendly and knowledgeable. He helped to release my pain and help with relaxation, while giving me some valuable advice for avoiding future issues. I would highly recommend him for locals or visitors."
Lauren Strasser Cardiff reviewed City Marshall on 19 November 2011
Some techniques that may be used in migraine pain massage are:
Soft tissue release & gentle kneading of the neck and shoulder
Gentle stretching of the upper body, neck and shoulder
Myofascial tissue release, both soft and deep tissue trigger pointing
Lymphatic drainage massage and Hand 'Walking' technique
Migraine pain massage benefits may include:
Mental and physical relaxation
A true sense of restored well-being & balance
A positive boost of energy and release of stress / tension
Maximising the supply of nutrients by increased circulation
Regulates blood pressure and may help in easing IBS and indigestion
Who can benefit from migraine pain massage?
Any body of any age regardless of physical condition
Stress, tension, anxiety, headaches, migraine and insomnia
Muscular spasms and tension including neck and shoulder tension
Muscular aches and pains: frozen shoulder, trapped nerve & back pain etc.
Migraine pain massage is performed with oil & you may wish to UPGRADE* by adding:
Hot & cold Stones Therapy – a wonderfully relaxing touch with significant recovery speed 
Essential oils – an Aromatherapy blend to suit your needs – anti inflammatory and anti spasmodic

Aromatherapy products – tailor made soaps, shampoos, creams, gels, facial sprays, after shaves and deodorants – carry the feeling home with you in a jar!

Reiki chakra Balancing – 15 to 30 minutes achieving an even deeper sense of harmony
Prices are for reference only, as the migraine pain massage will be tailor made:
VIP headache massage with hot stones (90 minutes)   £ 140
Premium migraine or headache massage (60 minutes) £ 100
Shorter migraine or headache massage (45 minute)   £ 85

each additional UPGRADE*            £ 15  
KINDLY NOTE – BEST PREPARATION FOR A MIGRAINE PAIN MASSAGE:
CLOTHING: you may remain wearing your own underwear or receive a disposable one
MEALS: avoid eating a heavy meal within 2 hours of the planned treatment
DIET: you are respectfully advised to avoid consumption of alcohol, caffeine and nicotine on the day of your treatment to allow better toxic by-product elimination
AFTER CARE: as a migraine massage is generally balancing and harmonising, you may return to work or drive home as usual

Kindly note, for those VIP Hot Stones migraine treatments, you may wish to use our kitchen downstairs, and help yourself to a soothing herbal tea, to allow further time to relax prior to returning to work or driving home