Hay fever, asthma & allergy
treatment Cardiff

Aromatherapy, reflexology & Hopi candling for Hay Fever, Asthma and chronic allergy treatments Cardiff.
We offer tailor made treatments for ongoing allergies, hay fever, respiratory conditions and asthma.
We recognize that these conditions are varied and need different approaches. Thus, we offer a wide variety of treatments to address seasonal hay fever, chronic hay fever, asthma bronchitis and other allergies and respiratory conditions.

Reflexology, Shiatsu and Hopi Ear candling are offered as fully clothed treatment options.
Light massage (Swedish or sports massage) as well as tailor made aromatherapy blends are also offered, depending on the need and personal requirements.
This special range of hay fever and asthma treatments is suitable for people of all ages and physical conditions. Aromatherapy essential oils may be blended to ease the effects associated with your particular hay fever or asthma allergy. Respiratory conditions, as snoring or bronchitis may also be addressed with various trigger point therapy treatments – eg. Shiatsu facials and Hopi ear candling.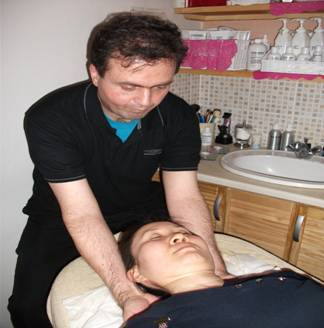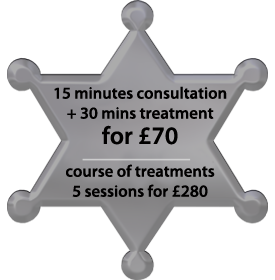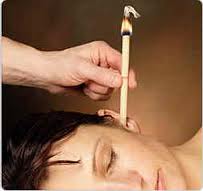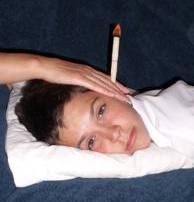 CNHC registered and fully recognised by most insurance companies. The CNHC is a government sponsored registration body for complementary healthcare practitioners.

The Department of Health advises all GPs to direct patients seeking Masaage Therapy. Aromatherapy & Reflexology to seek out only CNHC registered therapists.
Shorter versions of the hay fever & asthma allergy treatment may be performed without oil, over your (light cotton) clothing. This will mainly involve facial Shiatsu and trigger pointing. This may also include reflexology treatments, especially designed for hay fever and asthma or allergy relief. When performed in this way, this asthma & hay fever treatment routine may be quite deep and invigorating, when needed. As the hay fever & allergy treatment is very practical, a 'dry' session as short as 30 or 45 minutes can also be very effective.
For longer sessions of the asthma & hay fever treatment, special hot stones therapy massage uses a highly specialised blend of Aromatherapy essential oils that will be tailor made to suit your acute or chronic stage and needs. The use of the hot volcanic basalt stones deeply relaxes your muscle tissue and allows better breathing.
Asthma & hay fever reflexology treatments and allergy Shiatsu are especially recommended at least six weeks prior to the trigger season (Spring?). Hopi ear candling is also recommended for chronic allergies and ongoing respiratory disorders.

Hay Fever remedies & Asthma client testimonials:
"A Master of his craft at work. Following only one session with Phil Marshall the swelling was reduced by 95%, now 15 days later following a further 4 sessions with Phil, the fluid swelling hasn't returned, I'm confident it wont. I couldn't be more pleased. Phil has also help me with a respiratory problem due to inactivity since the date of my injury. Coupled this with Phil offers a constant flow of simple advise on lifestyle improvements and dietary changes, for me the experience has been so worthwhile. I would recommend Phil's services to anyone with ailments or maybe someone who simply needs revitalising. ."
Charles D, Cardiff 26 July 2015- on TripAdvisor
"The Hay Fever blend with the special blue chamomile and myrtle have workerd wonders.
I have stopped taking the antihistamines as well as the aggresive Corticosteroids (steroids) and feel SO MUCH better now. I only wish I knew about this sooner. Thank you so much."
Helen B, Cardiff 1 April 2014
"Shiatsu and Reflexology. It is obvious that Marshall has taken a lot of time and expense in mastering his many massage skills. Go there and be prepared to learn and be open minded. The Shiatsu is certainly highly therapeutic and if you are relaxed enough to have a massage without oil - this is surely what you should look into. Marshall's Reflexology technique is very clinical - not quite the foot massage that one expects - but extremely beneficial. I am hooked and have recommended it to all my mates at work. Ask him about his hay fever potion - lovely smell and did the trick for me in three days."
Chloe Jones Cardiff 11 August 2012 -
Yell.com
Some techniques that may be used in asthma & hay fever treatment are:
Soft tissue release & gentle kneading performed oil-free (dry)
Energy balancing by following your Sen Meridian lines
Myofascial tissue release, both soft and deep tissue trigger pointing
Lymphatic drainage massage and Hand 'Walking' technique
Asthma & hay fever treatment benefits may include:
Mental and physical relaxation
A true sense of restored well-being & balance
A positive boost of energy and release of stress / tension
Maximising the supply of nutrients by increased circulation
Regulates blood pressure and may help in reducing cholesterol levels
Who can benefit from asthma & hay fever treatment?
Any body of any age regardless of physical condition
Chronic or acute allergy, respiratory disorders, asthma and seasonal hay fever
Stress, tension, anxiety, headaches, migraine and insomnia associated with hay fever and allergy
Asthma & hay fever treatment may be enhanced with an UPGRADE* by adding:
Reiki chakra Balancing – 15 to 30 minutes achieving an even deeper sense of harmony
Hopi Ear candles – 20 to 30 minutes to ease your breathing and kick start your healing
Hot & cold Stones Therapy – a wonderfully relaxing touch with significant recovery speed 
Essential oils – an Aromatherapy blend to suit your needs – anti inflammatory and anti spasmodic

Aromatherapy products – tailor made soaps, shampoos, creams, gels, facial sprays, after shaves and deodorants – carry the feeling home with you in a jar!
Prices are for reference only, as the asthma & hay fever treatment will be tailor made:
VIP asthma & hay fever massage with hot stones (90 mins)     £ 140
Premium asthma & allergy aromatherapy massage (60 mins)  £98
Shorter asthma & hay fever massage / reflexology (45 mins)   £ 70

each additional UPGRADE* - including Hopi Candling         £ 15 
BEST PREPARATION FOR A HAY FEVER & ASTHMA MASSAGE TREATMENT:
CLOTHING: you may remain wearing your own underwear or receive a disposable one
MEALS: avoid eating a heavy meal within 2 hours of the planned treatment
DIET: you are respectfully advised to avoid consumption of alcohol, caffeine and nicotine on the day of your treatment to allow better toxic by-product elimination
AFTER CARE: as a asthma & hay fever treatment is generally balancing and harmonising, you may return to work or drive home as usual

Kindly note, for those receiving the VIP Hot Stones asthma & hay fever treatment, you are strongly advised to use our kitchen downstairs, and help yourself to a soothing herbal tea, to allow further time to relax prior to returning to work or driving home